The first element of this [Christian] uniqueness is that the Christian faith glorifies as Son of God a man who was degraded and dehumanized by his fellow human beings as much as it is possible to be, by decree of both church and state, and that he died in a way designed to subject him to utmost contempt and finally to erase him from human memory.

The second unique feature of the Christian gospel… is its central message of the justification of the ungodly (Rom. 4:5; 5:6). In this, the biblical story differs radically from any other religious, philosophical, or ethical system ever known. Every other system, including rabbinic Judaism and some varieties of gnostic teaching from within Christianity itself, assumes some sort of distinction between godly and ungodly, righteous and unrighteous, spiritual and unspiritual. In its radical form, the Christian gospel declares, "It is written, 'None is righteous, no, not one; / no one understands, no one seeks for God"… and "there is no distinction; since all have sinned and fall short of the glory of God" (Rom. 3:10-11, 22-23)…

The only provision in religion for the ungodly is to turn to religion. There is no good news in religion for those who have not turned or cannot turn. A crucial aspect of the radical newness of the Christian gospel is the word it speaks precisely to those "without God in the world" (Eph. 2:12).

Fleming Rutledge, The Crucifixion: Understanding the Death of Jesus Christ.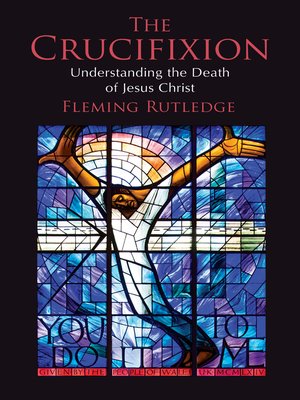 This comes from the first couple of paragraphs of the last chapter in Rutledge's exquisite book about the crucifixion and the many atonement motifs the church has imagined in order to attempt to understand the scope of what God accomplished on that cross. These two paragraphs are representative of something the former pastor does so well: while diving deep into the theology she never loses the plot; the particular distinctiveness of the Christian story runs from beginning to end of her study.
There were countless moments of new or fresh insight in the months I spent with this book but there were at least as many times when I thought, "Yes! Exactly. This is why I'm a Christian." Time and again Rutledge turns her attention to the worst of our sinful human instincts and shows how the crucifixion is more than enough to withstand them. Situated within an apocalyptic war between God and the forces of evil, Jesus' faithfulness unto death is the decisive word that God's cosmic salvation has won the ages.