I recently reviewed Al Tizon's new book, Whole and Reconciled for Missio Alliance.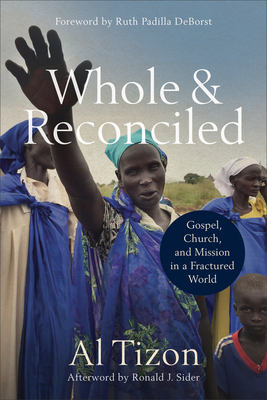 One of the defining and disappointing characteristics of western Christianity has been our instinct to bifurcate the church's mission. Consider, for example, the countless ways we find to debate whether evangelism or justice should be our priority. Is it the church's primary mission to address the material sources of a person's present suffering or the spiritual nature of their future? These either-or debates often happen within privileged confines among those with the ability to theorize about these things. It's probably not surprising that communities relegated to the margins have often held together the same attributes of Christian identity that others of us have torn apart. I'm thinking of the many African American congregations in my neighborhood whose services end with an old-school altar call and whose bulletins are filled with opportunities for their members to seek justice throughout the week.


In Whole and Reconciled: Gospel, Church, and Mission in a Fractured World, Al Tizon applauds those who have attempted to bridge theological bifurcations such as this by encouraging, in the language of the Lausanne Movement, "the whole church to take the whole gospel to the whole world." By emphasizing whole—or, in other contexts, holistic—these theologians and practitioners are advancing a version of mission that cares about word and deed, evangelism and justice. Importantly, the church beyond the west is included in this vision. Rather than the old assumptions about western missionaries being sent to the majority world, mission is now from everywhere and to everywhere.


Whole and Reconciled is a paradigm-shifting book with the potential to enlarge how our churches envision and participate in God's mission. Here are four ways Tizon succeeds in challenging us to think bigger about everything, beginning with reconciliation.
Read the rest over at Missio Alliance.